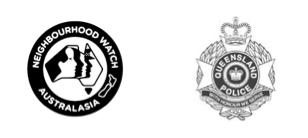 Neighbourhood Watch Australia (NHWA)
Queensland Police Service
Joint Media Statement
---
Ms Gailene Miller, Neighbourhood Watch, Riverview
receives the Malcolm Grant OAM NHWA Volunteer of the Year Award for 30 Years of dedicated service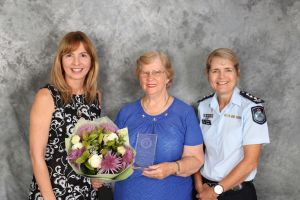 The award, named after Malcolm Sidney Grant OAM, known for his immense contribution to the Neighbourhood Watch (NHW) movement, recognises the outstanding contribution of an individual who demonstrates continual support to NHW. As a founding member of NHW Riverview, Gailene has held numerous positions in the group's committee, from writing newsletters and delivery person to Zone Coordinator and Treasurer.
Ms Maria Bennett, Chief Executive Officer of Neighbourhood Watch Australasia (NHWA) said "It was inspiring to see the dedication of NHW volunteers like Gailene. It's a credit to all NHW volunteers in Queensland for the tireless work that they do. Congratulations to Gailene for truly outstanding service and earning the Malcolm Grant Award".
Acting Superintendent Mel Adams said "Any meeting, function or event held in the Riverview, Ipswich district, you will find Gailene there planning and coordinating the events. Apart from making sandwiches, cooking sausages and serving popcorn, Gailene also provides her knowledge, guidance and community social connections to the group, whilst promoting and inviting others to become involved. Her passion and commitment aligns with NHWA's overarching goal to create safer and more socially cohesive communities".
"I am thrilled to receive this award," Ms Miller said. "I enjoy the work that I do so much, and I love spending time with my fellow Neighbourhood Watchers and with so many wonderful people in Riverview. It's all about working together to make our neighbourhoods safer for everyone".
Inspector Les Bulluss, Crime Prevention and Neighbourhood Watch, said "There are 11,000 registered volunteers throughout the State, working together with Queensland Police Service to make our neighbourhoods safer, stronger and friendlier".
Neighbourhood Watch Queensland celebrates 30 years of operation this year. Their priorities are crime prevention and public safety and are closely aligned with police services. Local NHW groups collaborate to discuss crime and anti-social behaviour in their regions and research and implement appropriate crime prevention strategies.
For more information please contact:
Email: admin@nhwa.com.au
Mobile: 0428 377 901