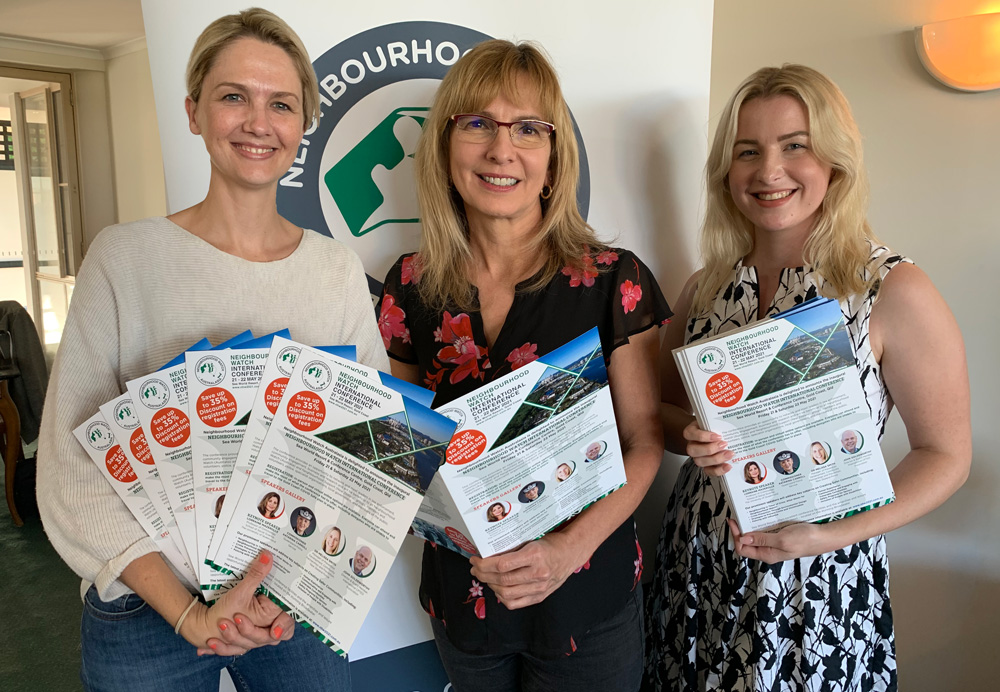 At the inaugural Neighbourhood Watch International Conference to be held at Sea World on the Gold Coast on the 21-22 May, local and international police, government officials, community organisations and the public will meet to exchange information and discuss new strategies to prevent crime and protect our communities.
The prevalence of domestic violence, increased digital media use and social isolation caused by the pandemic have all highlighted the need for police and the community to work together to protect our most vulnerable – particularly children and the elderly.
This unique crime prevention initiative does just that – bringing together Neighbourhood Watch Australasia, Neighbourhood Support New Zealand, Australian and New Zealand police, specialist organisations and the public to discuss crime prevention and propose new ideas around community safety. The focus is on the transparent sharing of ideas.
There will also be special addresses by Hon Karen Andrews MP, Minister for Home Affairs, and Mayor Tom Tate, City of Gold Coast. The event's MC will be Superintendent Mark Plath, Director of Queensland Corrective Services.
Among the many high-profile speakers are:
Commissioner Katarina Carroll, Commissioner Queensland Police Service
Dr Melissa Smith, Manager of Prevention Development, Community Partnerships and Prevention, Community Partnerships and Prevention, New Zealand Police
Lorraine Mazerolle, Professor of Criminology, The University of Queensland
This special event brings together these experts from government, police, academia and business to address critical issues around the theme of Creating Safer Communities, including crime prevention and community safety, and opportunities, strategies and challenges for the future.
Cr Pat Daley OAM co-founded the Neighbourhood Watch program in New South Wales in the 1980s when he was Deputy Chief of the NSW Police Crime Prevention section. Pat played a key role in bringing the community and Police together.
Pat says: "These days, the contemporary Neighbourhood Watch focuses on developing safety and security programs for seniors, and protecting children from online predators, the new 'stranger danger'. To mention but two of the issues we are currently working on.
"This important event gives police and community stakeholders the opportunity to work together to share information, brainstorm ideas and further develop effective crime prevention strategies."
Maria Bennett, Chief Executive Officer, Neighbourhood Watch Australasia, says: "In 1829, Sir Robert Peel – considered the father of policing – said 'The police are the public and the public are the police'. This statement is as relevant today as it was nearly 200 years ago. The conference is an opportunity for police and the community to discuss what is working and what we can do better together to create safer communities." The two-day conference will be held at the Sea World Resort, Seaworld Drive, Main Beach Queensland 4217 (on the Gold Coast). In-person and virtual online options are available. Registration details can be found at https://nhw2021.com.au.
Contact information
For filming, photo and interview opportunities contact:
Cr Pat Daley
patdaley.consultant@gmail.com
0435 658 422