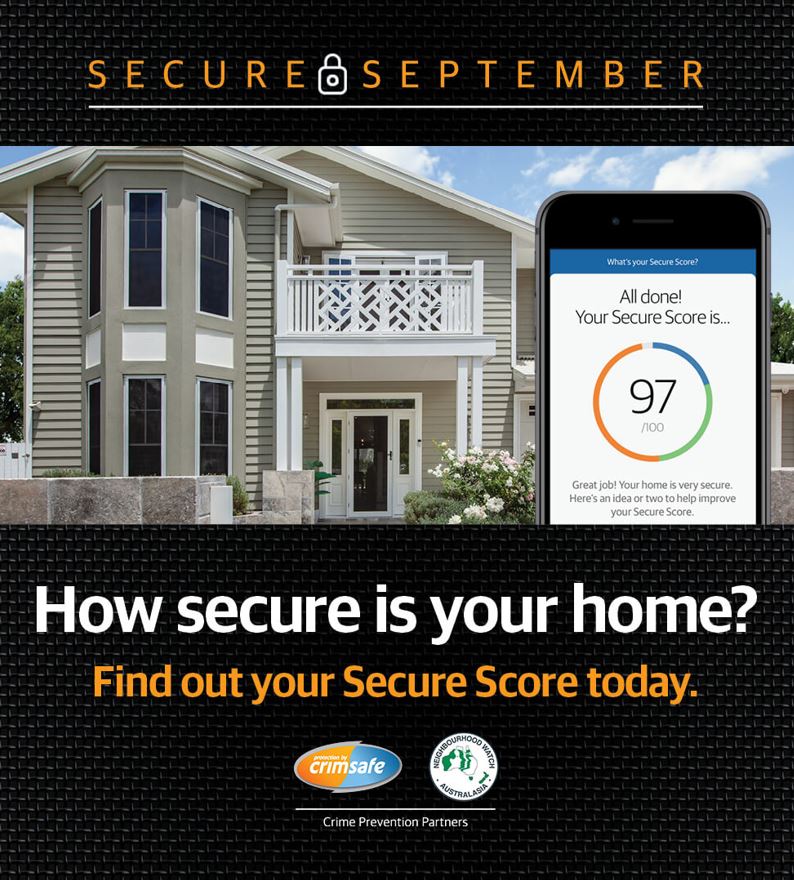 Australians will be able to calculate their home's security rating as Neighbourhood Watch Australasia and Crimsafe join forces to launch Secure September, a month-long behavior change campaign to encourage Australians to take stock of their home security.
The new crime prevention partnership has developed Secure Score, a home security audit tool that rates the effectiveness of householders' overall home security, taking into account current home features and security set up.
Australian households can complete the new free Secure Score calculator to uncover a security rating out of 100 for their home, and then access a tailored action plan highlighting the steps that can be taken to improve their score to better protect their home.
Crimsafe CEO Jim Sturgess says Secure September is an opportunity for Australian families to take control of their home security at a time when our homes are more valued and important than ever.
"The last reported quarter by ABS (December 2020) saw a 26% increase in unlawful entry with intent*," said Mr Sturgess.
"If there's anything these last two years have taught us, it's that our homes and the lives we lead inside them are the most valuable things we have. That's why we're partnering with Neighbourhood Watch Australasia to launch Secure September."
"It's not just about a score. It's about our home, our families and our communities. That's why I encourage all households across the country to take up the challenge this Secure September to check your Secure Score and do whatever you can to raise it to protect what's important."
Neighbourhood Watch Australasia CEO Maria Bennett says the crime protection partnership with Crimsafe will help arm Australians with the knowledge they need to better protect their homes and neighbourhoods.
"We have been keeping Australian communities safe for over 40 years as the country's leading volunteer community inclusion and crime prevention organisation. We're about protecting our communities and listening to them too, partnering with the country's most trusted security solution, Crimsafe, is a natural fit" said Bennett.
"With our local community insights and connections, combined with Crimsafe's home security expertise we're aiming to make a real impact through increasing education around home security and ultimately reducing crime in local neighbourhoods."
Secure September launches tomorrow, with the Secure Score tool now available at https://securescore.crimsafe.com.au
For Media Enquiries and interview:
admin@nhwa.com.au
0428 377 901
*Source: ABS, 24 June 2021 https://www.abs.gov.au/statistics/people/crime-and-justice/recorded-crime-victims/2020#impact-of-covid-19-on-national-recorded-crime-data