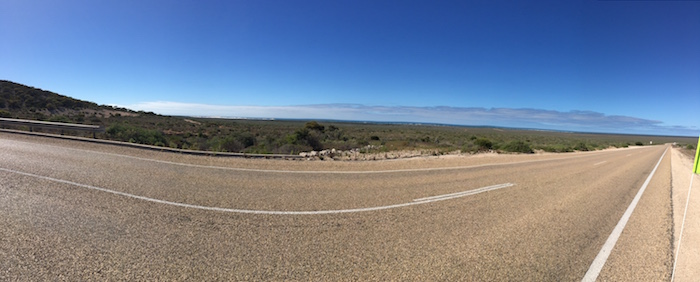 It's quarter time for Mr Bernie Durkin as he made the journey today into Eucla and crossed the Western Australia border into South Australia. For the last two weeks, Bernie has been cycling through Western Australia; departing Scarborough Beach in Perth as he makes his way to Bondi Beach in Sydney. This week, Bernie achieved an amazing milestone – making it a quarter of the way across the country! Well done! During his journey, Bernie has stopped in at many towns, meeting incredibly welcoming people within these country communities. So far during Bernie's Ride To Connect, he has connected with the neighbourhoods of:
Scarborough Beach
Northam
Kellerberrin
Bodallin
Boorabbin
Coolgardie
Higginsville
Norseman
Fraser Range
Balladonia
Cocklebiddy
Madura
Mundrabilla
Eucla
Border Village
The journey has been long, challenging, and at times rather lonely for Bernie as he cycles each day by himself. But those who meet him out on the road or at rest stops each day, welcome him with open arms and share their stories, wishing him well as Bernie continues on his way.
By Day 10, Bernie had cycled 1,271 kms (a total of 79.5 hours cycling). The stretch of road from Coolgardie to Norseman was the largest ride Bernie has undertaken to date, a long 168 kms in a single day (roughly 8.5 hours ride). Bernie is well ahead of schedule at this point – according to the original itinerary, Bernie should only be approaching Cocklebiddy on March 08. Instead he is tracking well on time reaching Eucla and Border Village today. As of this morning, Bernie caught his first glimpse of the ocean across the Great Australian Bight. This is the first time he has seen the ocean since leaving Scarborough beach in Perth.
The ride has certainly been no easy feat for Bernie. In our previous blog, Ride To Connect The Nullarbor Plain, Bernie had blown his rear wheel, broken beyond repair. Thanks to some quick thinking from Neighbourhood Watch Australasia and their connected community, WAPol Kalgoorlie were quick to Bernie's aid. Within six hours of the initial call to Kalgoorlie being made, Bernie had his bike back in one piece and was on the road again. Thank you to Rachel and Scott from WAPol Kalgoorlie for your generous help!
However, yesterday the tubing on the new rear tyre became stressed and snapped. Luckily Bernie had a replacement and could mend this himself, but he received spare tubing via a friendly truck driver who stopped by to meet Bernie out on the road. These kinds of mechanical issues are generally unheard of for most cyclists. But as Bernie travels over 100 kms each day in 35+ degree Celsius heat through the Australian bush, the bike will undoubtedly be placed under a great deal of stress.
Bernie will be tracked and have his daily safety monitored by Neighbourhood Watch Australasia. Neighbourhoods far and wide are following Bernie's progress via his GPS Tracking Spot. You can see his progress here.
Follow along with Bernie via the NHWA Facebook page, Instagram, and Twitter – share stories with #journeywithbernie #ridetoconnect2017 #nhwkeepingyousafe