The Neighbourhood Watch Australasia (NHWA) 2019 Malcolm Grant Volunteer of the Year Award was bestowed on a highly involved individual, a man who has been actively involved in Neighbourhood Watch activities for more than a decade. Yet, Ken Rehbein was "hugely" surprised when he learned he'd achieved this high-level award.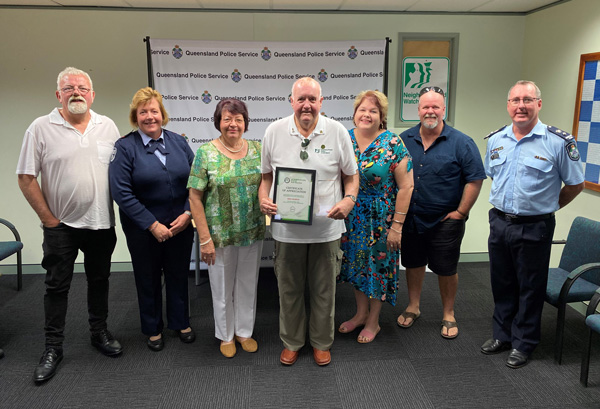 And, of course, true to his nature, he was generous about the people he works with.
"One does not do the things we do for the sake of awards, but it is wonderful to receive recognition. This Award is not just for me, but all of the dedicated Crime Prevention Officers, Police Officers and Neighbourhood Watch volunteers around the nation," Ken said.
"Without their dedication and involvement, Neighbourhood Watch would not exist.
"Neighbourhood Watch means a lot to me. In Queensland we have more than 400 active groups and thousands of volunteers, it's the primary community organisation within the Queensland Police Service (QPS) Community Participation Program."
The Neighbourhood Watch Australasia Malcolm Grant Volunteer of the Year Award is given to an individual who has volunteered their time through Neighbourhood Watch or Neighbourhood Support to empower people and communities through the development of strong and effective partnerships, promoting quality of life, safety, wellbeing and social inclusion.
Ken has been an active member of Neighbourhood Watch Queensland (NHWQ) for over 11 years and was the recipient of the Mackay District Member of the Year Award back in 2013.
Furthermore, he has been the NHWQ Community Advisory Committee representative for Mackay's Police District since 2015. Similarly, whilst working in conjunction with the Crime Prevention Unit and the Northern Beaches NHW, he has established the successful "cuppa and chat" program for the Northern Beaches area. Ken also organises regular events such as the Men's Breakfast in partnership with "Shed Happens" and led the Mackay "Lock Your" project. He's also the Facebook administrator for the local group, as well as helping to educate the community about the POLICELINK app.
Ken has worked closely with Mackay District Crime Prevention Coordinator on a cyber safety initiative which involved designing credit card USB sticks with cyber safety messages displayed on the side, in an effort to highlight cyber bullying issues. Last but not least, Ken has galvanised Neighbourhood Watch volunteers to work with local Volunteers In Policing to set up the BBQ on the Bruce Highway to assist during road safety weeks.
Neighbourhood Watch and assisting the community is clearly a calling for Ken and he's a great supporter.
"The organisation not only strengthens safety in our neighbourhoods, it also enhances the opportunity for empathy between the police and the community," Ken said.
"It can also provide a valuable source of information to our police in an informal way because people are relaxed at our regular, casual meetings.
"Importantly, Neighbourhood Watch provides a conduit to bring neighbourhoods together.
"It's a pleasure to work with our Community Contact Command people in QPS HQ, as well as those in the Mackay Police District, our CPU and the officers at our Northern Beaches Police station. It's also a pleasure to work with NHWQ staff and other members of the Community Advisory Committee."
Neighbourhood Watch Australasia Chairman Bernie Durkin was pleased to announce that Mr Ken Rehbein from Mackay Neighbourhood Watch in Queensland received the Malcolm Grant OAM Neighbourhood Watch Australasia Volunteer of the Year Award.
"There are tens of thousands of Neighbourhood Watch (NHW) volunteers in groups throughout Australia, all working together towards making our communities safer, more cohesive and more resilient.
"Whether it's passing on information to other members of the neighbourhood about home security, providing valuable information to the police or just running a local sausage sizzle to bring community members together, Ken exemplifies what it means to be in Neighbourhood Watch," Mr Durkin said.
Commissioner Carroll said, "Congratulations Ken on receiving this prestigious award and thanks not only to Ken, but all NHWQ members for their outstanding contribution to community safety and prevention together."
Ms Maria Bennett, Chief Executive Officer of Neighbourhood Watch Australasia (NHWA) said, "It was inspiring to see the dedication of NHW volunteers like Ken. It is credit to all NHW volunteers for the tireless work that they do."
"The work of Neighbourhood Watch epitomises the quote by Sir Robert Peel in 1829, who is recognised as the father of modern policing, 'The Public are the Police and the Police are the Public', and today it still as relevant as it was nearly 200 years ago."
"The NHWA Volunteer of the Year Award recognises the outstanding contribution of an individual who demonstrates continual support to NHW, giving freely their dedication and time," said Ms Bennett.
Inspector Les Bulluss, Crime Prevention and Neighbourhood Watch said, "We are so fortunate to have such a strong base of Neighbourhood Watch volunteers throughout the State, both in groups and in our significant online presence at www.nhwq.org".
"The Neighbourhood Watch volunteers work together with the Queensland Police Service to make our neighbourhoods safer, stronger and friendlier," Inspector Bulluss said.
For more information please contact
Selina Otto | Media Officer Neighbourhood Watch Australasia
Email: admin@nhwa.com.au
Mobile: 0428 377 901