Over the last 21 days the President of Neighbourhood Watch Australasia, Bernie Durkin, has been travelling across our great sunburnt land on his mission to connect communities far and wide. He has now well and truly passed the half way point on his journey to Bondi Beach in Sydney. But Bernie's Ride To Connect is about more than human spirit, endurance, and cycling ability. It's about promoting the importance of safer neighbourhoods through connected communities.
Neighbourhood – /ˈneɪbəhʊd/

A district or community within a town, city, or region.

Connect – /kəˈnɛkt/

Bring together or into contact so that a real or notional link is established; associate or relate.
At Neighbourhood Watch Australasia we are all about neighbours coming together. It's about building a community. And what better way to connect to those around you than through digital initiative? Which is why Neighbourhood Watch has released NHW Connect – a digital, community lead safety and awareness program, run by everyday people in their immediate communities. People just like you!
Neighbourhood Watch groups work together to learn how to reduce crime as well as to increase the safety, security and quality of life for everyone in your local neighbourhood. Make a difference in your community today!
Why Join NHW Connect?
Join NHW Connect's online community space and make a difference in your local neighbourhood by:
Connecting with your local neighbourhood groups and chatting to one another
Feeling more connected within your community
Preventing crime and reducing fear of crime
Working together for safer, more connected and inclusive communities
Joining NHW Connect is easy! Start making a difference in your own neck of the woods – reach out to like-minded neighbours in your community and watch your networks flourish, both on and offline. Here's how: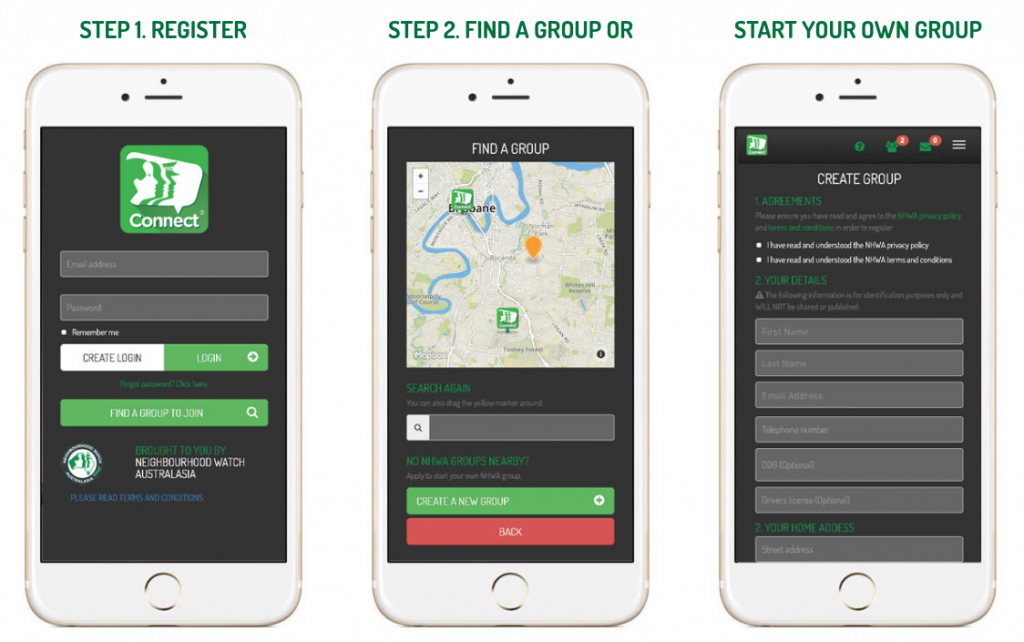 Step 1. Register
Getting started is easy! Just sign-up on our free NHW Connect app online, once registered you will be able to either join an existing NHW Group or start you own.
Step 2. Find a Group or Start Your Own
Use our locator map to search for a Neighbourhood Watch group near you. Once you've found one, you can contact the coordinator of that group via the NHW Connect App and ask to join. It's as easy as that! Alternatively, if you can't find a Neighbourhood Watch group near you, why not start your own? Fill in an application form and tell us about yourself and the location you want to set up your group, then the coordinator for your region will perform some security checks. Once approved, invite friends and neighbours to get your group connected.
As Bernie continues on his journey for another two or three weeks, he grows more and more dedicated to connect communities, meet new people, share stories, and celebrate in the Australian spirit. Show Bernie your support no matter where you are in Australia or overseas! Follow along with Bernie via the NHWA Facebook page, Instagram, and Twitter – share stories with #journeywithbernie #ridetoconnect2017 #nhwkeepingyousafe