Townsville Community Crime Prevention Information Day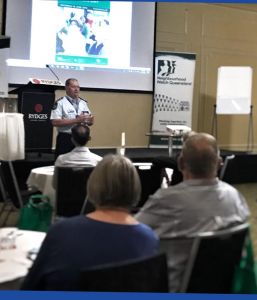 Neighbourhood Watch Australasia (NHWA) in conjunction with Neighbourhood Watch Queensland (NHWQ) presented a Community Crime Prevention Information Day on Saturday 16 June 2018 at Rydges Southbank, Townsville.
The purpose was to equip the residents of Townsville with knowledge of local crime prevention information and 'target hardening' techniques, together with skills, products and services to improve their personal, business and community safety. It was a good opportunity to wrap some support around the people of Townsville.
There was lots of useful information shared on the day that attendees could put into practice when they go home.
We had a variety of Presenters and a broad range of crime prevention topics.
Major General Stuart Smith (ret) was appointed in January 2018 to the independent role of Townsville Community Champion on youth crime issues. He is generating and facilitating community-led solutions to youth crimes which will serve as recommendations to the Premier. This has involved consulting the public across a range of sectors. Major General Smith gave an update on the progress currently being made in this area.
'ThinkUKnow' by Detective Sergeant Steve Carpenter which provides information on what young people see, say and do online, challenges they may face, and importantly, how to get help if something goes wrong.
Acting Detective Senior Sergeant Brad Phelps discussed Drugs in the community and link between drugs and crime and Inspector Glenn Doyle from Townsville Stronger Communities Action Group is tackling the underlying causes of offending.
Project Booyah is a Police run youth mentor program targeting disconnected youth and was awarded Best program of the State in 2017. Senior Constable Dee Prasser is the State Coordinator and briefed the attendees of the program and the positive outcomes it is producing.
The event was supported by the Queensland Police Service, Local and State Government Representatives, Neighbourhood Watch Australasia Board members, volunteers and the local community.
Morning tea and lunch was provided free of charge and gave all attendees the opportunity to speak with experts, other residents, parents and business owners.